On January 26th, we will celebrate Guernica's birthday.
We prepared a crazy surprise but cannot spoil it at the moment.
In the meantime, you can all play a role and drop a wish into the virtual jar! Each wish will become a floating heart.
More to come on the 26.01, stay tuned!
To drop a wish, you need to join the fan club or to log in.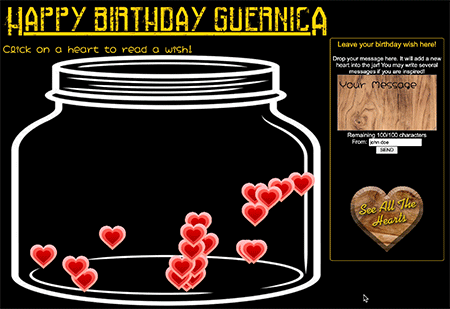 Woohooo! Guernica's birthday is on the 26th of January. At Thundermother Nation, we wanted to make this day unique! We came up with the idea to make a jar with greetings and posted to the German Thundermother fan group that we were planning that surprise. Many fans sent their personal birthday greetings; Trixi wrote each greeting on a small wooden hearts.
The jar was filled up properly and sent to Guernica.