The Story
How did the Fan Club begin
The story started in May 2016 when Oli offered to the band to look after the official Facebook fan page. Four years later, we raise the bar to the next level ready to run the biggest fans adventure ever!
During the first 4 years, Oli created a lot of digital assets for the band: tour poster, facebook banner, stickers, magnets, live video, t-shirts, song lyrics artwork, interviews, baseball cards and many more!
In 2019, the idea came to create a German Fan Group on Facebook with Trixi, André, Yasmin and Hannes. The dynamic was so good that we decided to start all together a structured fan club.
Trixi, André, Yasmin and Hannes are building a massive work. They are taking gig pictures, write review, set up fans gatherings and prepare epic surprise for the band members for different opportunities (birthdays, etc.).
And now, we need all the fans to raise their hands and join the craziness of THUNDERMOTHER FAN NATION. Sign up now, it is free!
Baseball Cards
When Guernica joined the band, I asked her "what would be your craziest dream?". She replied in a laugh "Doing baseball cards with the band members!". So I did them. (and yes, I cut individual 1,100 cards with a x-acto knife…).
There was a competition to win the deck and then they were sold at the merch stand.
And a few Tour Posters
This one for the release tour in 2018.
The blank area is left for the venues to add the date and their name.
André made wristbands.
In the featured picture, the wristbands are worn by the band!
© Pictures by Yasmin Tietz.
Social Media
Find us on the different social networks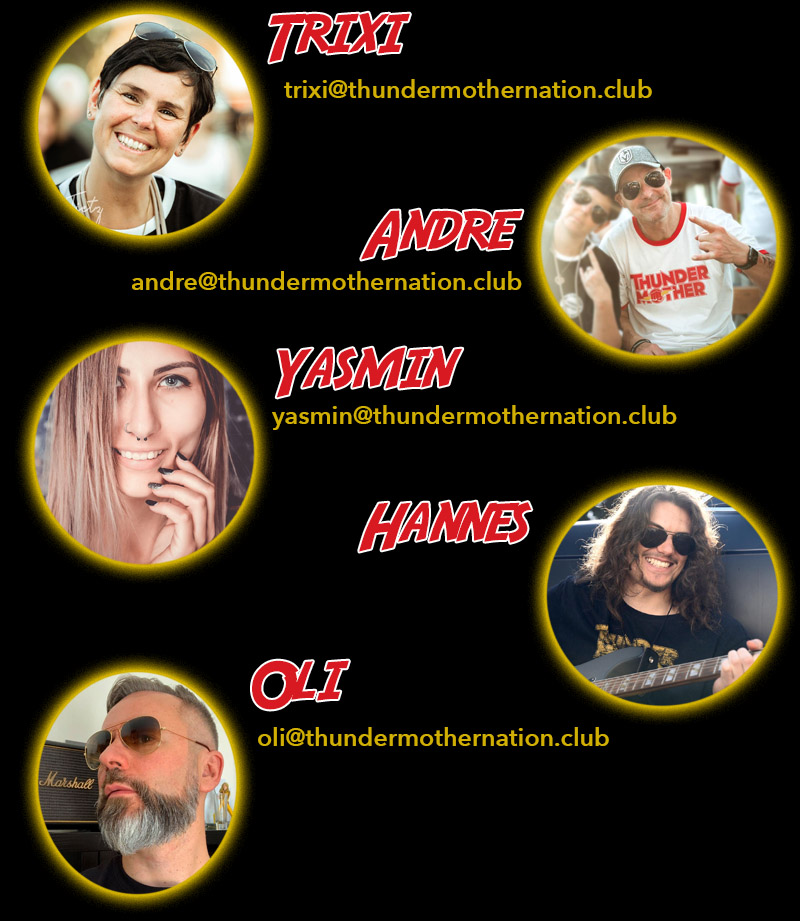 Design, code, hosting by Oli Nepomiachty.
Powered by WordPress.
Contact: oli[at] thundermothernation.club